Product
Screwdriver Bits for all Screws and bolts 1/4 Hex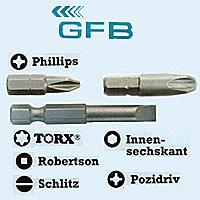 Screwdriver bits for hand and power tool
Product ID: GFB P01-1
Our bit exceed DIN / ISO standard, it is good to use in industrial area. Our brand is GFB.
The packing can be card packing, bulk packing and your design. Special bits are very well come, please supply your samples or drawing.
Features:
Good quality, exceed DIN / ISO standard.
Our registered brand GFB.
Accept all special bit holder, nutsetter and screwdriver bits.
Welcome sample purchase.
Order Information:
Minimum Order: Negotiable
FOB: Taiwan
Contact Detail
CEO:
Rax Huang
Address:
No. 32, Gui He Street Taichung City, 40344 Taiwan.
P.O.BOX 50-36, Taichung, 40399, Taiwan
TEL:
886-4-23713869
FAX:
886-4-23713324
Email:
box@gfb.com.tw
URL:
http://www.gfb.com.tw